Upcoming Presentation on RadiantCMS
by Sean Cribbs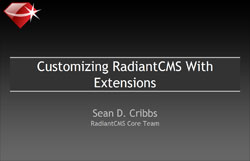 I plan on giving a presentation to the local Ruby group at the next meeting (March 27 7:00pm CST). The presentation will cover how to develop extensions for RadiantCMS. I've developed most of the presentation using OpenOffice Impress, but I recently converted to S5 and I am loving it, especially since I'm a HTML/CSS junkie. The best part of this is I don't have to worry about what kind of software is on the presentation machine (hopefully they at least have Firefox, but most machines at Centriq Foss do) or whether I can get Liz's MacBook to play nice with the projector.
Here's an overview of my presentation:
Why I think RadiantCMS is awesome, and the overall philosophy behind its development
What are extensions, why do we need them
How to develop your own extension (with examples from my work for KCKCC)
As soon as I've given the presentation, I'll post it for viewing here on my website.